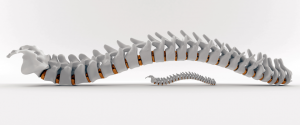 The goal of chiropractic care is to find imbalances in your body and to correct them. In order for your body to function at its optimal level, it needs to be in proper alignment. As the premier Cedar Park chiropractic and wellness center, that is where we come in. With many years of training and education, our dedicated specialists have treated many patients ranging from children dealing with ear infections to seniors with arthritis; from professional athletes improving performance to everyday house moms dealing with back pain; from plantar fasciitis to carpal tunnel; and from automobile accidents to sports injuries. Depending on your needs, we can assemble the best team of specialists to help you achieve proper alignment which alleviates pain, reduces the risk of injury, and keeps you feeling your best.
Chiropractic Care & Overall health at Chirofit Wellness Center
All of our patients begin their treatment with a thorough exam conducted by the doctor of chiropractic who assesses everything from alignment, soft tissue trigger points, muscle weakness, and more. With this in-depth knowledge, the doctor can oversee the entire Chirofit wellness team toward the mutual goal of helping you feel better.
The initial and ongoing chiropractic assessments are crucial because the musculoskeletal system is all interconnected. So if one only receives massage therapy without addressing alignment issues then subluxations may return. Similarly chiropractic adjustments without addressing soft tissues problems may not result in lasting pain relief. At Chirofit, the doctor of chiropractic is the nucleus of the team. Even though you may work with different specialists, they are all directed by the doctor and work together to find the best long-term resolution to your underlying problems.
Personalized Concierge Chiropractic Care
We are the only Cedar Park chiropractic facility, and one of the only ones in the entire state of Texas, to offer concierge chiropractic services. With our concierge chiropractic program you can get what you need, when you need it, all for an affordable flat fee. At Chirofit, you don't have to limit your visits due to budgetary reasons. We firmly believe that no one should debate getting chiropractic care due to financial restrictions.
Quality and Convenience
Chirofit Wellness Center is the largest chiropractic facility in the area, at over 3,500 square feet. This enables us to house several specialists to meet your unique needs. We take the time to evaluate your current condition and injuries so that we can make a treatment plan that is tailored to you, your lifestyle and your specific needs.
We understand that our Leander & Cedar Park chiropractic patients have busy lives, so we welcome appointments until 8pm, later than any other chiropractic office in Austin metroplex. This gives us the ability to schedule an appointment time that works best for you without having to take time off of work. Give us a call at (512) 531-9100 to set up your first consultation.