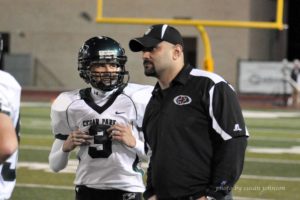 Athletes all over the world have discovered the benefits of sports medicine along with chiropractic care. With regular treatment throughout the grueling sports season, athletes have been able to achieve higher performance levels and are quicker to recover between games.  Locally, our Cedar Park High School Football team has counted on Chirofit Wellness Center's chiropractor Dr. Mo Jahadi's expertise during many of their championship seasons and beyond.  In this latest post, we'll highlight some of the benefits of sports medicine and its impact to the team.
Two State Championships
As part of his work with the Cedar Park High School team, Dr. Moconsistently works with the players to help them stay healthy so they can perform better on the field. This talented team has delivered with two state championships in 2012 and 2015. In 2016, they became the longest undefeated Cedar Park High School team in history. They reached six shut-out wins this season alone and have broken several other records along the way. We are proud to have helped our 2016 district champions.
Success Built on a Chiropractic Foundation and Sports Background
Dr. Mo has worked with the Cedar Park High School team since 2009.  From the beginning, he has used his unique athletic background, chiropractic insight,and sports medicine knowledge to help the players push through and achieve new athletic heights.  Football and other impact sports sometimes leave players with back, knee and other musculoskeletal injuries so it is important to diagnose and treat as soon as possible to help players recover and return to the game they love.
One of the benefits of working with Dr. Mo is that he played Texas high school football himselfas well as collegiate rugby. This allows him to relate with the high school athletes at a different level than most other chiropractors as he has experienced first-hand the sport and seen the types of injuries that might occur. Dr Mo is also a Certified Chiropractic Extremity Practitioner ( C.C.E.P.) with over a decade of experience in sports medicine and chiropractic care. With his unique background, Dr. Mo has developed a comprehensive treatment framework geared for athletes. This framework has helped support the players with the physical and mental tools needed to play consistently throughout the entire season.
A Promising Future for Players
Because of the work Dr. Mo has done with the overall team and its individual athletes, the players have been able to minimize injury and play in more games.  By getting more game time, our talented players have had an opportunity to showcase their skills and that has captured the attention of many recruiters from colleges across the country. In fact, the vast majority of graduated Cedar Park High School football players that have used Chirofit Wellness Center for their injury prevention and athletic performance have had the ability to go on to play at the college level. Hard work with a healthy and peak performing body achieves greatness!
To learn more about Dr. Mo and Chirofit Wellness Center, please contact us today at (512) 531-9100.