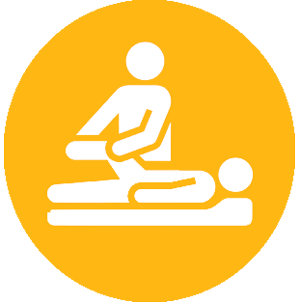 The goal of rehab therapy at Chirofit is to help with improving your stability and strengthening of the injured area so that you may return back to your normal activities as quick as possible. Our rehab therapists have years of experience and are certified by the National Academy of Sports Medicine (NASM). Furthermore, they are trained and follow a chiropractic rehab protocol designed by Dr. Mo Jahadi, D.C., C.C.E.P.  who developed these protocols over the last 15 years.
Starting with his personal experience with physiotherapy and rehab while playing collegiate sports,  Dr Mo developed his rehab protocols while pursuing a degree in kinesiology/exercise. He refined them further as a teacher's assistant when working with cadavers at Palmer College of Chiropractic and throughout the subsequent years at his successful chiropractic practice. Today, these specialized rehab protocols are exclusively available at Chirofit Wellness Center in Cedar Park.
What happens during the Rehab Therapy sessions
Our 30-minute individual rehab therapy and training sessions are tailored to meet your specific medical needs and alleviate your pain using our chiropractic rehab protocol. Our knowledgeable health and fitness professionals will provide support and encouragement, monitor your progress, and help you overcome any challenges that may arise. These skilled rehab therapists are also trained to educate you on the physiology of your body systems and the science behind your injury.  We believe that if you understand the neurological connections between the body and mind, this not only helps you pinpoint the root cause, but also guides you to better tend for and recover from your injuries.
The rehabilitation exercises we perform in these 30-minute sessions are taught to you in great detail so that you may continue to do the exercises at home. Working on your recovery at home can empower you to take charge of your progress, facilitate healing, and help you save time and money.
Let us help you recover from you injury
If you or somebody you know, needs help recovering from an injury, simply book an appointment at Chirofit Wellness Center. Our team of skilled medical professionals will diagnose and evaluate your current condition and develop a treatment plan that is tailored to your specific needs as well as your diet and lifestyle. For more information on Chirofit's rehab therapies and to schedule an in-person consultation, please contact Chirofit in Cedar Park at 512-531-9100.