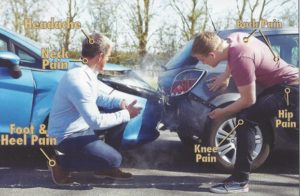 Cedar Park, TX – December 2016 –Chirofit Wellness Center asks car accident victims to rely on them as their one-stop-shop when having to deal with injuries from automobile accidents. Not only do they provide expert chiropractic & related services to help with recovery, but they also can connect you with the right specialist(s) to address all the other issues with auto accidents.  Whether it is medical, legal, insurance, or auto-body, Chirofit Wellness Center knows the right people.

With the holiday season, many people are distracted while shopping.  Chirofit Wellness Center understands that accidents often feel like the worst thing that can happen during this time, and if it does happen, ignoring or delaying treatment can only make things worse. Chirofit's Doctors and wellness team will develop an in-house customized program for each patient.  If needed, they also have a trusted network of specialists to help patients with recovery and reduce or mitigate long-term pain.
Unfortunately when an accident occurs, there is a lot to think about. That is why Chirofit Wellness center goes beyond and helps their patients file insurance claims and can even connect them to preferred attorneys, if needed, to manage their auto accident case and claims.  As a well -established resource in Cedar Park they also can refer you to a reliable auto body shop in the area for your cars, trucks, or bikes.
Car, body, and insurance – Chirofit Wellness Center goes the extra mile to provide a convenient, one-stop-shop approach for patients suffering from automobile-related injuries.  Chirofit Wellness Center aims to be the first and only call (after you call 911) to deal with automobile accidents and accident victims are encouraged to call immediately, before it gets worse, so they can get back to caring for their families. To learn more, contact Chirofit Wellness Center.
About Chirofit Wellness Center
Chirofit Wellness Center is a total health and fitness provider that focuses on restoring the balance between the mind, body, and the neurological connections to pinpoint and relieve pain.
Contact:
Chirofit Wellness Center
901 Cypress Creek Rd. Ste. #200
Cedar Park, TX 78613
(512) 531-9100
For more information, please visit: www.ChirofitWellnessCenter.com